Fast Equipment & Attachments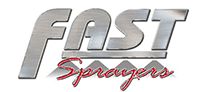 Founded in 1990 by Verlyn Fast, a farmer seeking to increase the productivity of his own operations, the mission of FAST Manufacturing Inc. is to provide quality products at competitive prices, backed by dependable service. Today, FAST represents farmers and engineers coming together to produce high quality sprayer and liquid fertilizer equipment that is both practical and productive. A large portion of FAST employees are, or have been, directly involved in farming operations. Our welders, fabricators, assemblers, and painters are skilled craftsmen who take pride in their work.
We realize how important it is for today's farmers to continue to become more efficient and profitable, so our equipment is designed and built to make your job quick, accurate, and safe. Your investment in FAST equipment will pay dividends for years to come.
Our sprayers and applicators have been tested over thousands of acres. Throughout the history of our company, serious, long-term farmers have purchased FAST equipment to experience years of dependable, trouble-free performance. Our staff understands what today's farmers demand, and design and build equipment to meet the challenge.
Our goal at FAST is to make you a life-long customer, one piece of equipment at a time.
Over the years FAST has continued to invest in equipment to increase the automation and consistency of our manufacturing process, to provide high quality machinery for farmers. Our manufacturing facility currently utilizes flat laser tables, a tube laser, a robotic welding cell, multiple press brakes, and a state of the art powder coat paint system.