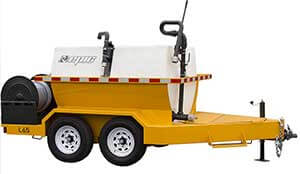 Need Assistance?
---
If you are having issues or need assistance please contact us at: 1-800-222-3373
Insurance Requirements
---
It is the responsibility of the renter to return equipment in the same condition it left.
Rental insurance can either be provided by an outside insurer, or purchased through Messick's.
If providing your own insurance:
Acord certificate from your insurance provider needs supplied to Messick's
w/ the loss payee showing:
Messick Farm Equipment
187 Merts Drive Elizabethtown PA 17022
Certificates are filed and are valid as long as the policy is active
If purchasing Messick's rental insurance:
Attachments and implements are fully covered against operational damage
Powered units are covered with a $5000 deductible to cover catastrophic losses.
Insurance is not a replacement for responsible operation of the machine.
Rental: Epic L65 HydroSeeder
Location: Elizabethtown
Tow Behind w/ Electric Brakes. Weight: 7,000 Lbs. 25 HP Gas Engine. 650 Gallon Tank. Centrifugal Pump. 200' of 1 1/4" Clear Braid Hose on Electric Reel. Turret Gun and Discharge Gun w/ 1 Straight Nozzle and 2 Fan Nozzles. Mulch & Tac products available.
RESERVE DATES
---
Select your desired dates by dragging a selection on the calendar below
- OR -